How to get festival ready?
Festival season is almost here and you have to be festival ready for all the events that you planned for your summer. To kick off the season, Metro Metro Festival is perfect: a wonderful weekend with amazing headliners like Cardi B, Snoop Dogg, and Future. You do not have your tickets yet? Go purchase them now before the event is sold-out by clicking here. If you already have them, let's get festival ready for the first edition of the hip-hop festival in Montreal!
Be prepared for all kinds of weather
Be sure you checked the weather forecast to bring everything you need to accommodate you to the weather during the weekend. This way, you will be covered for everything. The festival will be no matter the conditions (rain, sun) be ready for anything and for everything next May 18th and 19th.
Choose your outfits wisely
When you will plan your outfits for the weekend, you have to consider the weather and to think of all possibilities so you can be ready for it. Furthermore, think about comfort first – it can seem like a no-brainer because of the classic perfect festival outfit for Instagram, but you will dance, move and walk all day long so you must be comfortable.
Be hydrated and eat along the day
Festival days are exhausting and require a lot of energy because of all the partying. So it is extremely important to be hydrated and to eat along the day. A lot of water will avoid you a heatstroke and possibly a headache the next day!
On-site, there will be food trucks with a great variety of food. You will be able to find what suits you. Also, bars will be on-site at your disposition to buy beverages and alcohol. All of the information concerning food trucks and bars is on the map of the festival.
Consult the time slots of each day
Yes! The set times schedule is finally out! Click here to consult it now. The schedule is really important to know which artists you want to see performing, at which stage they are and at what time they will be performing. Plan and organize your day with your friends to go and see your favorite artists along the weekend.
Anticipate your travels
Be insured that you know how to get to the festival site and which kind of transport you need whether it is by public transport, by car or by active transportation. If you have any question, refer you to our FAQs on our website for more information.
Fast entrance
If you want to enter faster, do not bring a bag. If you have a bag, please be sure to bring only allowed objects on-site. The faster you enter, the faster you can party and turn up! Again, if you have any question about allowed objects on-site, refer you to our FAQs on our website for more information.
The "Nice to Have"s
Carry a small backpack, a cross-body purse or a fanny pack with you to put your cellphone, your ID, keys, cash, etc. Everything you need can fit in there and you will have a great time with your hands-free!
Water – you can never have too much at a summer festival.
Rain boots or shoes – beware of the weather, it is never really fun when you are in flip flops when it is raining.
Sunscreen is completely non-negotiable in a summer outdoor festival, you have to bring some for the weekend.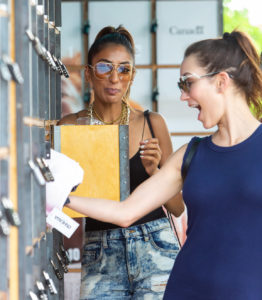 You want to reserve a locker so you don't have to carry your personal items all day? It is possible by reserving a locker with Locketgo and be in peace. Don't miss your chance to have your own personal space, with a USB port inside to charge your phone! Click here to reserve now.
Last tip: embrace the experience and make it the best it can be! Have fun!
Tickets
Hurry-up! Metro Metro Festival is in less than four days and will be sold out tomorrow! If you don't have your tickets yet, go purchase them now by clicking here to reserve your place at the most insane festival of the summer! A first edition that will be unforgettable.
You want to know more about our line-up and about artists performing? On the local talents coming for this weekend? Read our new articles by clicking here.